We've all seen chic prisonesque striped garb but this year stripes are totally fresh bright and fun! We are seeing lots of mixed patterns, directions and colors with our stripes which tends to go with the theme of this spring and summer.
Today is my first segment on stripes and I will be taking you past the traditional black and white striped shirt and showing you far more exciting tops for you to indulge in! I will be doing some future blogging about where else you will be finding these lovely lines....but for today it's all about the striped shirt!
As we all know the brighter and bolder you are this season the better! This
shirt
is the perfect example, tons of color, tons of pattern and you have to love the kimono sleeves.
Available at Lulu's for $49.
This
next shirt
is very well put together. It has a crisp and classic look with it's off the shoulder design and tie around the waist. From Victoria's Secret for $39.
This next choice is a great example of mixing up the directions of the stripes. It's ok to mismatch a little!
This one
is from Macy's for $36.75.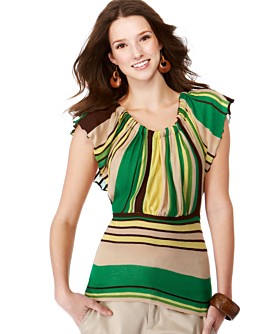 And finally I have picked
this one
from Arden B for $58. I love all the various widths of the stripes but most of all I love the little crochet detail in the center which makes it very sweet and romantic!
Well my friends there we have it! Keep your eye out for Part II of my stripe edition because there are many many more places these stripes are popping up!